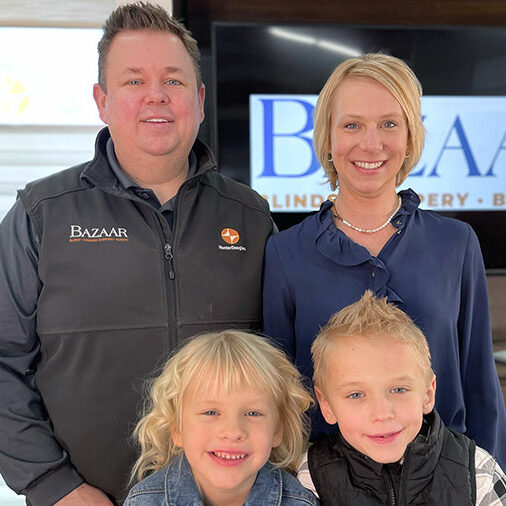 The History of Bazaar Home Decorating Center…
In the early days of Bazaar Home Decorating Center, started in 1969 in the old St. Charles Catholic Church, the mainstay of the business was fake fur. We sold remnant pieces by the pound.  Each day, we would fill the bins with the new pieces of fur. We quickly became known as a quality fabric company with great selection.
When reflecting on our past, we have realized how important it has been in shaping the way we do business and our strong community bonds. We are reminded of a story that quickly became part of the culture of this, now 3rd generation, company.
For many days – maybe even weeks – there was this one beautiful piece of fur in the $1 a pound fur bins. Everyone liked it, but when they weighed it, they would put it back into the bin. The reason for this was the piece had a big heavy seam right down the middle of it. This made the piece very heavy and very expensive, probably $5.
One Morning, my dad said to me, "When somebody decides to buy that piece, I want you to give it to them for nothing." As luck may have it, a very distinguished man walked in that very day and chose this amazing piece of fur.  When he came to the counter to pay for it, I relayed the story to him that we had decided to give it for free. He smiled, said "THANKS" and then left.
About a week or so later this man returned and spoke to my dad. At this time, he identified himself as the owner of the Deerskin Shop in Waukesha. He handed my dad a package and asked him to give it to me in return for giving him the free fake fur. He had brought mittens back to us, as a gift to us, for showing him kindness and generosity.
This story remains as a foundational piece of our business today. Giving back to the community will always be part of who we are. Loyalty, service and great value…serving our community for over 65 years.
110% Price Match Guarantee
Bazaar Home Decorating Center Policy
Bazaar Home Decorating guarantees that our prices are very competitive. If you find the identical product with the same features from a dealer that provides the same service, we will MATCH THE PRICE AND CREDIT YOU 10% OF THE DIFFERENCE!
All competitor quotes must meet the following guidelines:
All competitor quotes must be a legitimate quote on their company letterhead.
Competitor quote must clearly state the supplier, product(s), pattern/color and options being quoted.
Suggested Retail Price, Room location(s) and/or installation instructions must be clearly noted so we can verify we are quoting the same windows.
Quote needs to detail whether tax is included or not included in the quote.
Quote needs to detail whether installation is included or if the customer installing their own shades. If no installation is noted on the quote, Bazaar will take the position that installation is not included in the competitors quote.
Quote needs to be from a local competitor.
The price match guarantee applies only to residential pricing only. Management reserves the right to review competitor quotes for final approval. If competitors prices are clearly predatory or a mistake seems to have been made, management reserves the right to decline this price match guarantee.
Bazaar Home Decorating Center will credit 10% of the difference between the two quotes. For example, if the quote from Bazaar is $1,000 and Competitor X has the same product for $900, Bazaar will credit 10% of the $100 difference. In this instance, the new quote from Bazaar will be $890. Price match guarantee can only be used once on a quote. If we match the price from a competitor, that price is final.
Why choose us? Don't take our word for it…
New construction. I worked with Mary (sales) and Dalton (installer) both top notch. Great products and customer service! Thank you Bazaar!

—Cherie B.

Very pleasant to work with. Very friendly. Pays great attention to detail and when the project is completed it looks fantastic. Thank you.

—Kathy G.

The team at Bazaar made every step of the process from design to install smooth and easy when we needed window treatments for our new home. Thank you Mary and Dalton, we love our new blinds!

—Daniel G.

Your last blinds I had installed lasted longer than the windows they were on for 30 years.

—Cindy W.

The whole process was a breeze! I really enjoyed working with Robin and felt she understood our aesthetic immediately. Installers were friendly and trustworthy!

—Sue G.

Was absolutely satisfied from beginning of project to the end. Thank you very much!!!!!

—Sharon W.

Have a houseful of your blinds and love them. Your staff is great, very friendly and polite.

—Pam S.

It was a pleasure doing business with a business that "naturally" exudes professionalism and a desire to serve their customers.

—Bob & Karen G.

Robin was very professional, knew exactly how to explain what would work best and made me feel very comfortable working with her. Thank you for the wonderful job, and of course I will recommend you to my friends and family.

—Lois S.

I have always had great service from Bazaar and really try to use local businesses. Thank you.

—Mary B.

Amy was extremely helpful when I had questions after. I would definitely send anyone looking for window treatments to Bazaar. They are a class act!!!!! Thank you.

—Marilyn & Mark F.

We have been dealing with your company for over 20 years, and we will continue!

—Mike & Patti B.

Excellent Drapes!! Would definitely return to purchase additional services.

—Mary E.

Michele took whatever time we required during several visits, and continued to present alternatives until we agreed on a solution. Installer was very impressive.

—Beverly K. Brookfield, WI